Stinger Micro
Details
https://www.emuaustralia.com.au/all-footwear/stinger-micro/W10937.html
EMU Australia's Stinger Micro is a water-resistant, double face Australian sheepskin boot that sits at the ankle for a feminine and flattering fit. Soft and comfortable, they also deliver traction and grip.
Read Full Description Text
---
FREE SHIPPING /
FREE EXCHANGES*
---
Features
Premium water resistant Australian double face sheepskin
Australian sheepskin lined footbed
Sheepskin naturally wicks away moisture leaving footwear odourless and perfectly warm in winter and cool in summer
Moulded suede heel cup for comfort and support
Soft EVA midsole for comfort
Durable rubber outsole with wave design for traction and grip
Product Description
The women's Stinger Micro is made from natural double face Australian Sheepskin to offer unbeatable comfort. Australian sheepskin keeps your feet warm in the winter and cool in the summer, meaning you can wear your Stinger Micro boots all year round. Treated with water resistance to protect against spills and stains, the ankle height offers a minimalist look and enduring style. Built on a durable outsole providing support and traction, they also feature memory foam cushioning.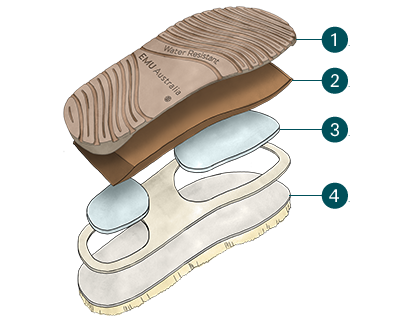 Original Comfort
---
1. Naturally durable rubber for extra traction & ground insulation
2. Moulded EVA layer for comfort & support
3. Soft foam inserts for added comfort
4. Australian sheepskin for the ultimate in warmth & comfort
Stinger Micro
is rated out of
5
by
98
.
Rated

5

out of

5
by
Marissa
from
My go to winter boot
I'm not sure if my feet are just abnormally cold, but the emu stinger boots are all that I wear in the winter to keep my feet warm and cozy. The micro is perfect if you want to wear them with boot cut jeans and also look so good with leggings and skinny jeans. They're so comfortable and I love the new more slimming design, which still fit my wide foot! I normally wear a size 7 in shoes, but I wear a size 6 in these emu micros. I just measured my foot and compared it to the size chart emu provides in this website and they fit perfectly. They may be a little bit snug at first, but after some wears they get a little bit more roomy. These are very high quality, comfy footbed, warm and stylish. Love!
Date published: 2016-01-23
Rated

5

out of

5
by
Kelsey kleiner
from
Adorable!!!
I bought these last month for a weekend at the lake! We stayed in a cabin and I just wanted to come inside by the fire and be as comfy and warm as possible!!! My shoe size is 7.5. I buy all my emus in 7 because they form to your feet & then fit perfectly! I highly recommend these! They are so comfy and soft and they are very comfortable to wear around the house or outside! I sprayed water proof spray on them before my first wear. Just to add more protection since I live in the middle of a muddy wet woods and it's winter here and the weather is very hard to keep things clean! I wore these on a half melted lake until they were soaked on the outside. My feet were still dry and my boots were wet and muddygot. I came inside and let them dry off and they still looked brand new! Usually fabric like this get salt marks or get ruined in the water or mud. But every single time I buy a new pair of emu they last me years and still look great! it's the only boots I buy! They stay looking great! Also my shoes always smell after long wears and when I take my feet out of these with or without socks my feet smell great every time!
Date published: 2017-02-08
Rated

4

out of

5
by
lbunfoofoo
from
Super cute with jeans
They are so cute and go really well with leggings, jeggins, skirts and anything denim. Totally versatile. And I can even wear them in the Florida winter weather! I'm from Minnesota so they will get year-round use. Downside is they are a little hard to pull on but the tab in the back helps. Also, the short height seems to cut into my ankle when it is positioned in a certain way (ex: driving). Just put it in cruise and problem solved! FYI, buyer beware, see my rating about customer service below concerning a previous product, however.
Date published: 2017-01-15
Rated

5

out of

5
by
Kelsey Paige
from
Love these!!!
I just received them in the mail and I could not be more excited to try them out!!!!! I normally wear 7.5 and I buy 7 in emus! My last pair lasted years and looked great! I recommend spraying them with waterproofing spray before wearing them! I know it says they are already water resistant but it really adds to them lasting longer and staying brand new looking! I live in the middle of the country and walk through mud, puddles, and snow and my last pair didn't disappoint!
Date published: 2017-01-05
Rated

5

out of

5
by
Yorkie
from
My first emu boots
My first purchase from emu and I am so happy I chose these boots . They are so well made and lovely and comfortable , my feet are so cosy !!! I bought the brown ones and now intend to buy the indigo ones !!! Would definitely recommend these boots . Amazing !
Date published: 2017-01-19
Rated

5

out of

5
by
Anonymous
from
Great quality and super comfy!
I use them as slippers at home because I need supportive shoes and wanted slippers that last a long time for sustainability reasons. They're so comfy, and I have abnormally cold feet and this has improved that 10 fold. Love them! And getting a size change when I initially bought it was super easy. Thanks emu!
Date published: 2020-11-04
Rated

5

out of

5
by
Anonymous
from
Just get them!
These are the ultimate casual warm boot for a cool fall day. They are timeless, go with any outfit, and are very minimalistic. The height is perfect, as they hit just at the thinnest part of the ankle which is flattering for your legs. I'm so happy I ordered these! I will be wearing these for years to come!
Date published: 2020-10-11
Rated

5

out of

5
by
Anitahampel
from
Stingers micro
Hello The stingers micro looks very solid.they are VERY comfortable but its still summer over here so i didnt have a chance to try them out. For sure they will keep my feet warm during winter and hopefully they are waterproof. Should i use impregnation spray ? greeting from Poland ;)
Date published: 2016-08-13