Oxley Fur Cuff
Details
https://www.emuaustralia.com.au/all-footwear/oxley-fur-cuff/W11698.html
30% Off Selected Styles, Colours & Sizes

Only applies to select colours and/or sizes

Limited time only

Cannot be used with any other promotion

No other discounts will apply

Product does not qualify for free exchange
Spend & Save > Get 20% when you spend $200. T&Cs apply.

$200 threshold only applies to full price product

Excludes products already on sale

To qualify for this promotion you must purchase and retain all items

The promotion no longer applies if you return an item for a refund

The refund amount will be adjusted to remove the total discount amount

Transaction does not qualify for free exchange

Limited time only
EMU Australia's Oxley Fur Cuff is a water-resistant women's ankle boot made from natural suede and lined with Australian Merino wool. Versatile in design, the exposed wool cuff can be worn folded up or down.
Read Full Description Text
---
FREE SHIPPING /
FREE EXCHANGES*
---
Features
Premium water resistant suede
100% Australian Merino Wool lining and footbed
Water resistant welt
Durable rubber outsole with wave design for traction and grip
Product Description
The stylish Oxley Fur Cuff ankle boot is warming, water-resistant and comfortable, making it ideal for all-day wear. Made with suede and lined with soft Australian Merino wool, the boots also feature an anatomically correct insole and cushioning, wedge midsole for maximum comfort and support. These boots can be worn with the cuff up or down to suit your style and feature a tonal belt which adds a tough edge to the design.
Incredible Comfort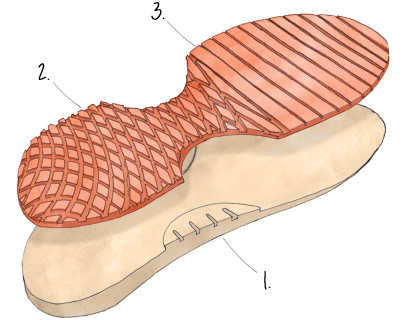 1. Co-molded EVA for comfort & support

2. Radiating circles provide extra traction

3. Naturally durable gum rubber outsole